Do you know The Sydney Morning Herald's head office is located in our North Sydney CBD?
When The Sydney Morning Herald moved into its brand-new offices at 1 Denison in August 2020, they didn't quite arrive with the fanfare they might have liked.
They were just emerging from lockdown and had become quite adept at working from home. Now, they've come to love their North Sydney CBD home, having previously been based in Pyrmont and the city prior to that.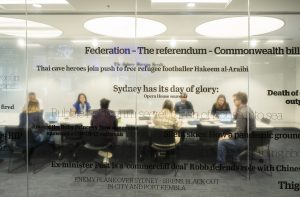 ---
They have a great team of editors and reporters based in their North Sydney office and they would love to meet their local readers. Below are the bios of their amazing team:
Tory Maguire, executive editor
Tory Maguire is a senior Australian editor with two decades experience in news. She joined the Sydney Morning Herald in 2018 as national editor, responsible for coverage of federal politics, business and international news, before being promoted to executive editor in 2020. She previously worked for 15 years at the News Corporation, including as associate editor of The Daily Telegraph, and was also appointed as the first editor-in-chief of The Huffington Post Australia in 2015.
Bevan Shields, editor
Bevan began his career at the Illawarra Mercury and has previously worked as the Herald's federal bureau chief in Canberra and as Europe correspondent based in London. Bevan was appointed editor in 2021.
Kate McClymont, chief investigative reporter 
Kate is a nine-time Walkley award winner for her investigations into spivs and shysters across sport, business, entertainment and politics. Along with co-host Tom Steinfort from 60 Minutes, Kate has been involved with the successful podcast Liar Liar: Melissa Caddick and the Missing Millions.
Jordan Baker, chief reporter
Jordan writes on a range of issues for the Herald. In the past, she has specialised in education, crime and transport. She has worked for a range of newspapers and magazines in a career spanning 25 years.
Melissa Stevens, The Sun-Herald editor
Melissa's career has taken her from regional reporting to the global media hub of Hong Kong. She joined The Sun-Herald at the start of this year after returning to Sydney from her role as digital editor at the South China Morning Post.  She has previously worked as assistant editor of The Daily Telegraph, editor of mX, and editor of The Manly Daily.
Julie Power, senior reporter
Julie reports for the Herald on a wide range of issues, from architecture to road safety. Julie previously worked for The Australian Financial Review in Sydney, Adelaide and the Parliamentary Press Gallery. She worked in the United States as an editor and writer, focusing on business, marketing and trade.
Nick Bonyhady, technology editor
Nick started with the Sydney Morning Herald as a graduate trainee in 2018, covering fires, a federal election and the Sydney to Hobart Yacht Race. After a stint in Canberra as a politics and industrial relations reporter, he now leads technology coverage within the business team.
Melanie Kembrey, Spectrum editor
Melanie Kembrey is editor of the arts and culture publication Spectrum. She has worked as a journalist and editor at the Sydney Morning Herald for more than a decade, including as the culture news editor and covering urban affairs and crime and courts.
Monique Farmer, Life editor, The Sydney Morning Herald and The Age
Monique has worked as a journalist and editor in Australia and New Zealand. She began as a journalist at The Sydney Morning Herald, eventually becoming managing editor (sections), before spending four years in NZ where she launched a weekly magazine and was associate editor of the Sunday Star-Times. In the past decade she has led the teams on Good Food, Traveller, Sunday Life as well as the mastheads' culture content.
Matt O'Sullivan, transport and infrastructure editor
Matt has previously served as city editor and deputy business editor. He has also reported on aviation and telecommunications, and is the author of a book on Qantas, which was published by Penguin Random House in 2015.
Matt Wade, senior economics writer  
Matt writes about economics, politics and demography. He was based in India as a foreign correspondent for the Herald and The Age between 2007 and 2011. Matt has previously worked in the Canberra Press Gallery as the Herald's economics correspondent and has covered consumer affairs and financial markets.
Liam Phelan, deputy editor  
Liam has worked for the Herald since 2004. He has been Sun-Herald editor, deputy night editor and chief sub-editor (news). Prior to working at the Herald, Liam worked for The Australian, The Irish Independent and taught journalism at UTS.
Kathryn Wicks, managing editor
Kathryn is a 35-year veteran of the Herald, having worked as a news and sports reporter, subeditor, chief subeditor, deputy sports editor, and NSW state editor. She is responsible for professional standards and manages and develops the Herald's trainee reporters.
The Herald's trainee reporters
Angus Dalton, Billie Eder, Millie Muroi, Anthony Segaert and Angus Thomson.
---
Join us on Friday 14 October at our NTH SYD Lunch Club event to meet the faces behind The Sydney Morning Herald team.