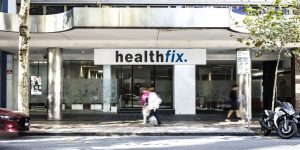 Healthfix is a team of health professionals providing services in a high-performance gym located in North Sydney. Sean and Ash, the founders and executive team of HealthFix, created various programs that are easy, effective and accessible for the community. Their goal is to lead everyone who seeks help to become their own health expert of their bodies and minds.
Sean and Ash, a husband-and-wife team, met in a pub in Ireland through friends and later realised they both went to the same university, had a background and interest in the health industry and lived down the road from each other in Sydney – but had never met before.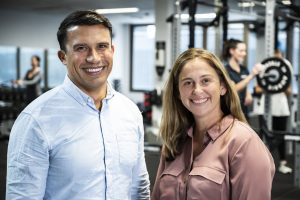 Sean holds a Bachelor Degree in Physiotherapy and a Masters Degree in Sports Physiotherapy. He first started HealthFix in 2011 with the goal of creating a health service that delivered lasting results and gave its clients the confidence to do whatever it is they wanted to do. Having a strong foundation in exercise from his personal training and background in exercise physiology, he has found that most great results came from guiding people to engaging in the activities that they love to do.
Ash has a background in Occupational Therapy with over 10 years of experience working as a thought leader in injury management and wellbeing across large organisations. Before joining Healthfix she was the national manager for one of Australia's largest retailers, reducing the workers comp premium from 22 million to 9 million over a two-year period. This led to a deep-seated passion for integrated healthcare using a biopsychosocial approach to achieve better health outcomes.
"Fundamentally, we have always shared the same belief that people are at their most productive and satisfied when they are at their happiest – and sound health is an integral part to this. That's why we've created a multidisciplinary team to provide easy access to effective healthcare and industry experts to customise sustainable and achievable training plans for our clients," Ash said.
With Sean's experience working as a physio and Ash's big business knowledge and passion for health, they have launched HealthFix in North Sydney CBD, now in its eleventh year. Sean said "We love the mix between locals and commuters and the vibe of the North Sydney CBD – there is always something happening and new faces to meet!"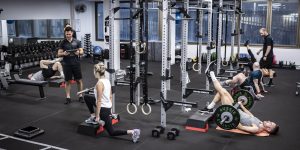 "Our first attempt to get the gym's door opened was challenging. Thankfully our team were amazing – they came in on weekends to help finish painting, lay flooring, hang pictures, and move furniture, etc. Our gym was definitely a labour of love from our entire team which made it so special when we finally opened," Ash said.
She continued, "Then COVID hit. We weren't able to keep the gym's door open because of the restrictions. But we knew that keeping up with exercise was vital for our clients and their health. We quickly changed our approach and doubled down on what we could do through telehealth and outdoor training. We offered free PT sessions and reset health programs to support our clients through the pandemic. Our exercise team trained outdoors from morning to night through winter – the wind, rain and all of it. We had reception staff up there to support them, washed their cars and sent out hot meals. We did meetings via Zoom and sent out care packages – it was a tough time for our team."
"On a personal level, we welcomed our third child into the family, home-schooled our oldest child and moved house while trying to ensure the gym's operation. It was a really difficult time for us as a family and as business partners. But we are so grateful for how committed our team members were to ensure our clients were looked after. We never took anything for granted," Sean said.
When asked if there are any new challenges occurred in the world of post-COVID, Sean and Ash said they found that even though people are looking for more social connection and wanting to focus more on their health, there were ongoing challenges with illness and hybrid working from home arrangements which made it difficult for them to set and stick to plans. The operation of the business is also impacted by some staff changes over the past two years.
Ash and Sean both agreed by sticking to their core values definitely helped them getting through these challenging times. They invest in their team's development and in providing the best and most cost-effective solutions for their clients. They are always looking for new ways to develop their clinicians and are proud of the things their team go on to do, becoming experts in their chosen fields.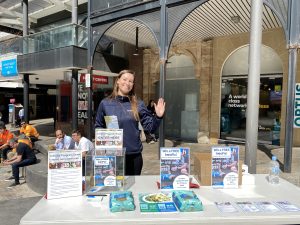 Sean and Ash's goal hasn't changed – to help as many people as possible to keep up with regular exercise routines that are safe, supportive and work in with their lifestyles. This is the key to maintaining good health for the long run. They love their clients so seeing them achieve their goals and becoming empowered health experts gives them the absolute best reward.
HealthFix offers a free 7-day trial for new clients – this is the best way to try out their group fitness classes. They also offer a premium, holistic and super flexible membership that gets real results. Now is your time to try it out and share it with your friends and family!
Visit www.healthfix.com.au to get in touch with the team and find out more.