When a customer looking for a quick bite for lunch in North Sydney tell Mark and Julie Baylis that their shop is really busy, they often have one response. "We jokingly tell them it's their fault because they told everyone about us,". Word of mouth has driven their business, Marlies, since it opened in April 2018, with a line running out the door of their Elizabeth Plaza shopfront most lunchtimes. "Jules and I both have culinary backgrounds, but were working in corporate jobs. With our combined experience, it would have been silly not to put our heads together," Mark said.
A family trip to San Francisco in 2015 was their light bulb moment. "We drove down the Californian coast all the way to San Diego and really enjoyed the variety of cuisine because we're foodies. We had a banh mi in San Fran which encroached on Americano with their interpretation. Then we thought, what if we do Asian and combine it with American Barbeque." They got back home and started creating recipes, trying new products and testing out what worked. This wasn't the first time the two had worked together, in fact they met in the workforce. "We were both working for Unilever, I was a home economist and Mark was a chef in the traditional sense," Jules said.
Mark recalls the romance starting while working for a catering company and said their relationship was cemented through food. "We've been in food together for a long time," he said. They tried their new creations by catering a few parties for their friends and refining their dishes from the feedback. From there, they started a stall at the Palm Beach Markets and ran that successfully for two years. When they started looking for a shopfront for their ever-growing popular food fare, they searched for something on the Northern Beaches where a lot of their regular customers were located but struggled to find what they wanted. "We ended up finding this place in North Sydney and it was perfect. It had this rustic, hipster feel, tucked away in a laneway but with a lot of foot traffic," Jules said.
They came up with their business name, Marlies, by combining both their names. From there, the business grew quite steadily. "One person would tell 10 people and then all of a sudden we had a line of customers," Jules said. "We didn't expect to grow so quickly, but on our first day we had 60 people come through and try us."
They said their brand is built on good food and good vibes and they know many of their customers on a first-name basis. "Nobody does American barbeque with an Asian twist so it's a bit of a niche," Mark said. Customers choose a menu item and decide if they would like it in a crusty soft roll, Californian taco wrap, hawker salad bowl or a rice super bowl. They all come with pickled carrots, onions, radish, crispy shallots and coriander. The Hawker salad bowl with Whisky barbeque beef (Big Joe) is one of their most popular requests. "It's a melting pot of flavours," Jules said. "It was created for the North Sydney shop when we opened." A smoky maple sriracha chilli chicken is another of their well-liked dishes. The couple usually work a 14-hour-day and pride themselves on fresh produce and hand-cut food. "We go through about 120 kilograms of carrot a week, all peeled by hand," Mark said. "We're serving about two people every minute." "We also have the best craft beer in North Sydney."
While Mark and Jules have a lot of fans in North Sydney, they are also fans of the area too. "I love North Sydney, it's a really nice corporate community and I enjoy seeing the same faces every day," Mark said. Jules said her husband enjoyed having a chat with all his regular customers.
Marlies is located at shop 6A/2 Elizabeth Plaza, North Sydney.
They are open Monday to Friday between 10am-3.30pm and are fully licenced.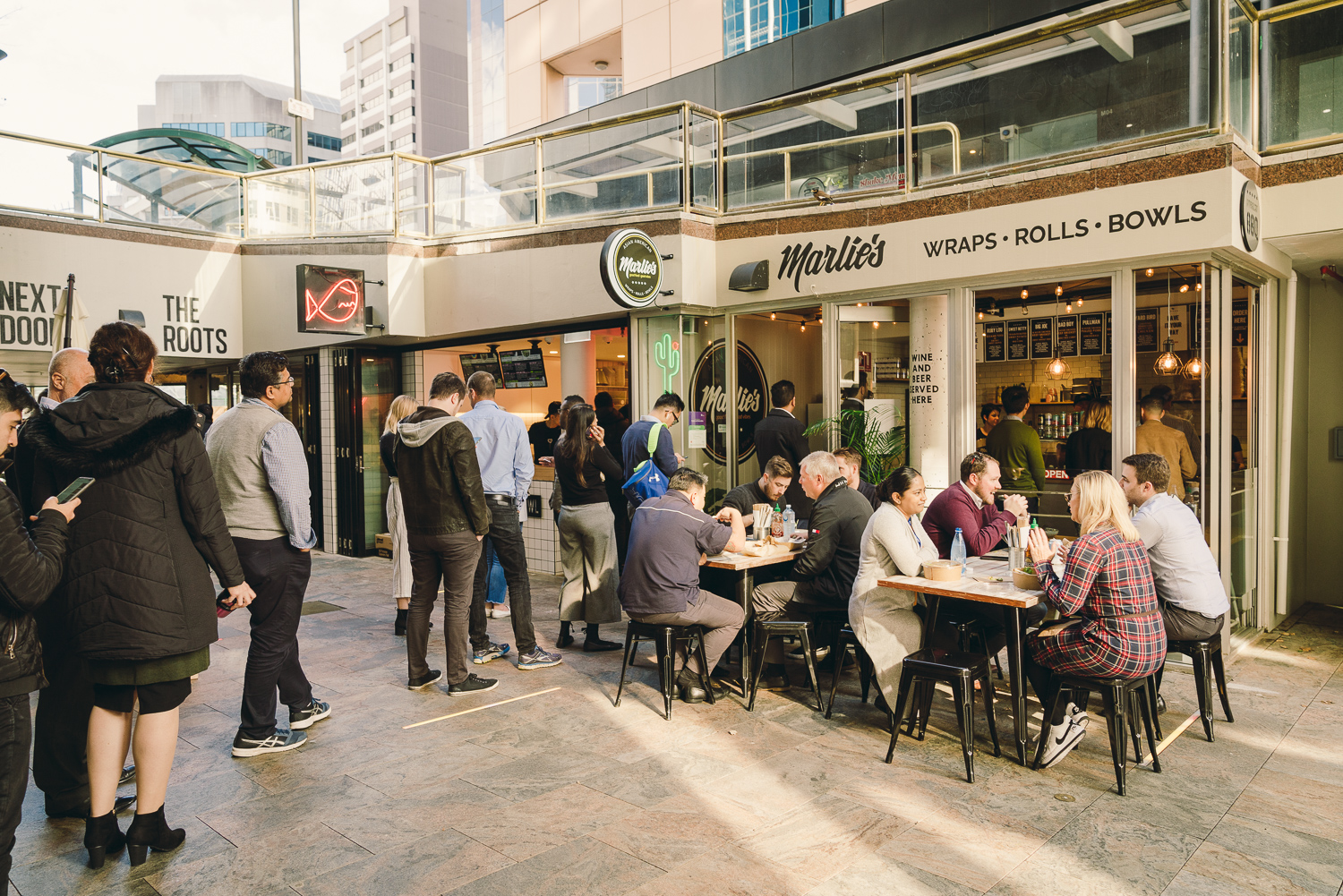 Marlie's often has a line running out the door.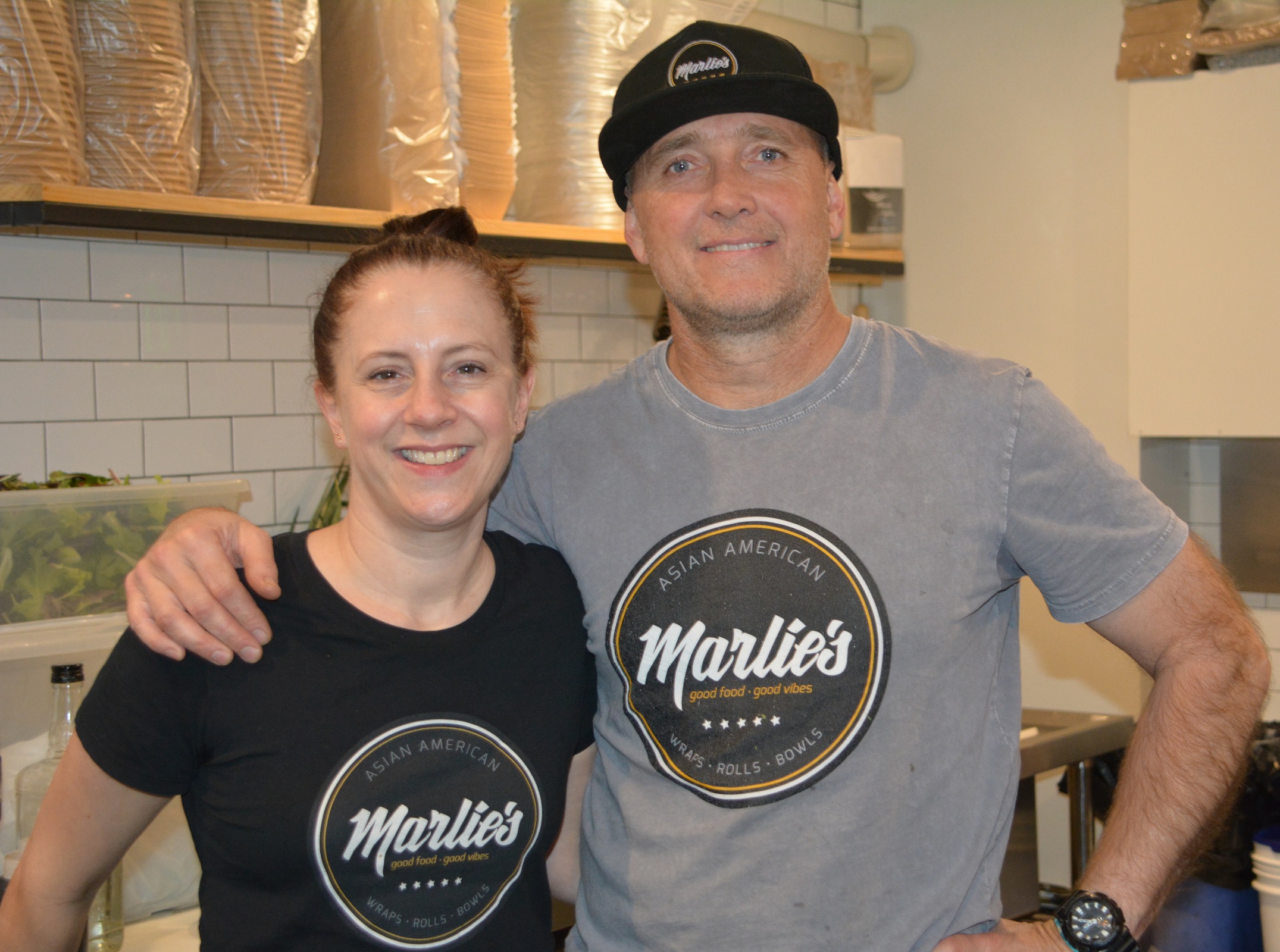 Mark & Jules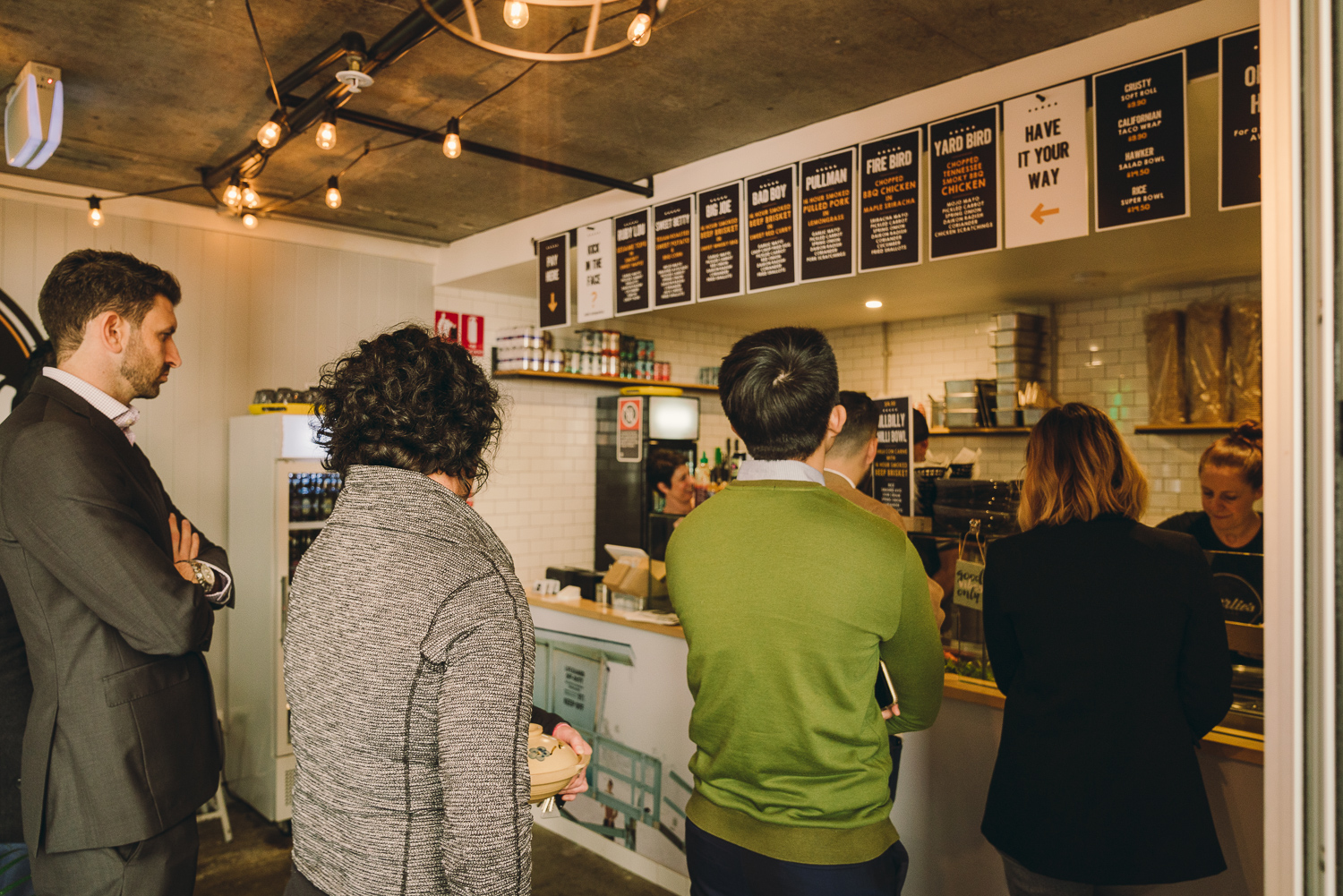 The Marlies menu is a melting pot of flavours