There are many reasons why people choose to go into the hospitality business – the love of good food, a passion to share quality produce or simply to be a valuable part of a local community.
For George Prodromou and Fransceca Baratone-Prodromou, owners of Charlie & Franks in North Sydney, these were all powerful motivations. However, the unexpected joys they've received from their 20-plus years in the business is far more profound.
"One of most rewarding aspects of this job is how it nurtures your spirit for looking after people and it makes you want to keep looking after them," he shares.
"We feel this way about our customers and our staff. We were committed to holding on to our 20 core staff members during the worst part of the pandemic and we were so happy we were able to do that."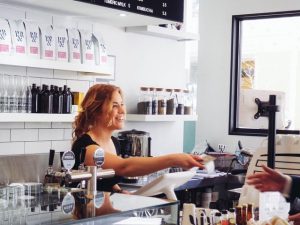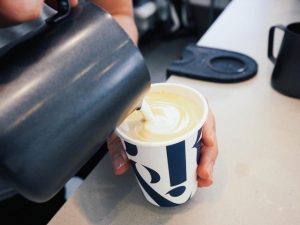 It's this element of caring and nurturing, as well as excellent food and coffee, that has seen Charlie & Franks remain one of the most popular eateries in North Sydney and St Leonards. It also goes some way to explain the striking presence of the bright pink buns they used for all bacon and egg rolls and burgers last October – Cancer Awareness Month. To raise money for cancer research Charlie & Franks donated 50c from each one sold.
"We lost Francesca's father to cancer some years back and this our way of acknowledging the devastating impact of cancer.
What is the reaction of customers when they see the flash of fuchsia as they unwrap their B&E roll?
"It's a mixed reaction!" laughs George. "Some people just don't like it, but mostly, our customers are happy to support the cause and that's a great thing," he adds.
You can sense the potent connection between food and family at Charlie & Franks. Indeed, Charlie & Franks is named after George's grandfather and Francesca's father, who were both raised in families which operated restaurants in New York, Los Angeles and Cyprus. These days, North Sydney is home and when not at Charlie & Franks in North Sydney or St Leonards, they are often found enjoying the outdoors life with their three boys – the eldest of whom is 11 and pretty savvy when it comes to recognising good food.
"The type of food we sell is the type of food I like to feed to my own family. My oldest boy definitely has a discerning palate and is not shy letting us know if something works or not!" Judging by this, it appears the family tradition may continue for many more years to come!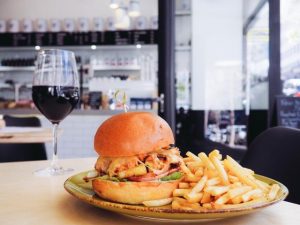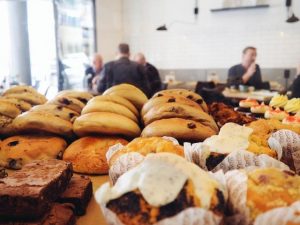 Charlie & Franks donated all proceeds from the fundraiser to the Australian Cancer Research Foundation ACRF in October 2020.
Charlie & Franks
100 Walker St, North Sydney, 2060
(02) 8920 1967
Monday to Friday 6.00am – 3.00pm
Saturday 6.30am – 2pm
info@charlieandfranks.com.au
You can also find Charlie & Franks at St Leonards.