If you have visited Brett Whiteley Place before mid June 2021 you will have discovered a vibrant collection of sea creatures amongst colourful pieces of coral reef, all created out of yarn.  This spectacular public art installation named The Refuse of Coral Reef  has been handcrafted with knitted and crocheted yarn by local community group – the North Sydney Yarnachists.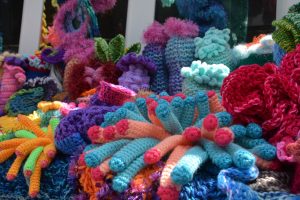 The Great Barrier Reef, off the coast of Queensland is the world's largest coral reef system and became a UNESCO World Heritage Site in 1981.  Despite its uniqueness and status as a World Heritage Site, the reef is deteriorating and has been severely damaged due to a variety of environmental impacts including oil spills, contamination from agriculture and industrial run-off, micro-plastic contamination, and rising sea-temperatures.
This yarnstorming  project aims to increase awareness of the destruction of our Great Barrier Reef.  It has been purposefully placed in a public outdoor area where the elements and environment will impact its appearance and longevity. Sunlight, rain, wind, and car emissions will all erode the installation over time, demonstrating the vulnerability of our Great Barrier Reef's fragile eco-system.  The knitted coral pieces are shaped internally with plastic to demonstrate how micro-plastics are destroying coral and killing fish through ingestion.
Hundreds of hours of work went into creating this fragile fabric installation but it has been intentionally created for outdoor viewing so the public can witness the gradual damage of the pieces as time goes by. The North Sydney Yarnachist's key message is that if we refuse to attend to the causes of environmental damage, our Great Barrier Reef will eventually become refuse too.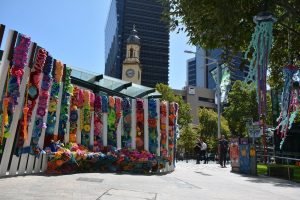 The North Sydney Yarnachists are made up of members of the Stanton Library's branch of the international charity Wrap With Love. The group is made up of local citizens who are concerned about contemporary social and environmental issues. The Yarnarchists began work on The Refuse of Coral Reef in mid-November 2020 with a commitment that their weekly meetings would result in an installation that demonstrated shared vision, determination, and collaboration in the time of Covid restrictions and regulations.
The Refuse of Coral Reef will be exhibited from Thursday 19 February to Wednesday 16 June 2021. After this time the surviving pieces of knitting will be relocated to The North Sydney Community Centre.
The project has been led by local resident and artist Dr Debra J. Phillips.