The NTH SYD CBD is surrounded by an abundance of incredible parks, check out some of the best parks right on our doorstep.
St Peters Park: 
St Peters may be a small 'pocket park', but what it lacks in size, it makes up for with its proximity to the heart of the CBD. Located just around the corner from North Sydney Train Station and a four-minute walk from North Sydney Post Office, St Peters is the perfect choice if you're time poor but still want to get out of the office for some fresh air. With a few benches and small lawn, there's space to eat your lunch or meet a friend for a coffee. You can also glimpse Sydney Harbour Bridge and enjoy watching the changing colours of the sculpture in the heart of the park, A Rotunda for 'Reflective Encounters' by Sydney-based artist Damien Butler.
Clark Park:
Just a ten-minute stroll from North Sydney Post Office, one of the best things about Clark Park is that few people know it's there, making it the perfect spot to quietly read a book on the grass. It also has views of the harbour, pretty flower gardens and an array of public artwork, including A Nite to Remember by Peter Kingston. If time permits, you can also explore Wendy Whiteley's Garden next door or descend the steps down to Quibaree Park on the harbourfront and continue along the Peter Kingston boardwalk.
Wendy Whiteley's Secret Garden:
Not so secret anymore, Wendy Whiteley's Garden attracts visitors from all over Sydney who are keen to discover this hidden oasis with its zigzagging pathways, intricate nooks and crannies, and beautiful views over Lavender Bay. There's an array of artefacts to be discovered within, including a bronze statue of a female head by Australian sculptor Joel Elenberg and other artworks hidden amongst the trees. Originally transformed from an overgrown valley by Wendy Whiteley, who over time was joined by a team of gardeners, the garden is now described as her 'living piece of art'.
Parks within a 15-minute walk of the CBD:
Quibaree Park:
Located on the harbour directly underneath Clark Park and Wendy Whiteley's Garden, Quibaree Park has views stretching over the water towards Luna Park and the Harbour Bridge. From Quibaree, it's easy to loop around to Milsons Point Train Station via the Peter Kingston Boardwalk where you can spot pieces of his artwork along the route.
St Leonards Park:
Home to The Greens, North Sydney Oval and North Sydney's Anzac War Memorial, there's plenty to see and do in St Leonards Park, situated 13-minutes from the Post Office. As well as bowls and games at the Oval, the park also has a children's playground, free cricket practice nets, netball courts and a youth community centre. A free Parkrun is also held in the park at 8am every Saturday and is open to all ages and abilities.
Bradfield Park:
You can't get any closer to the Sydney Harbour Bridge than in Bradfield Park which sits directly underneath the northern end of the towering steel structure. Bradfield Park is easy to reach by public transport from North Sydney Train Station by jumping on a city-bound train for one stop and disembarking at Milsons Point. Alternatively, it's just a 15-minute walk downhill to the harbour. There's plenty of space in Bradfield Park to meet up with a group of friends, practice some yoga, do a workout, play a ball game or just enjoy watching the ships and boats sail past on the harbour. If you have some time to explore, take a walk along the foreshore to Mary Booth Reserve which has even more spectacular views of the bridge.
Blues Point Reserve: 
You would be hard-pressed to find a better panoramic view of Sydney Harbour, the Bridge and Opera House than at Blues Point Reserve. Situated at the end of Blues Point Road, approximately a 15-minute walk from the CBD, the view alone makes this park more than worth the walk.
Sawmillers Reserve: 
Completely off the beaten track and located just 15-minutes from the Post Office via Blues Point Road, Sawmillers Reserve will help you feel like you've truly left the city behind. Once you've found the access point off either Munro, French or West Crescent Street, follow the winding steps through the former timberyard, which was still operational until the 1980s, and stroll along the water edge's which has views of an old shipwreck and out towards Balmain.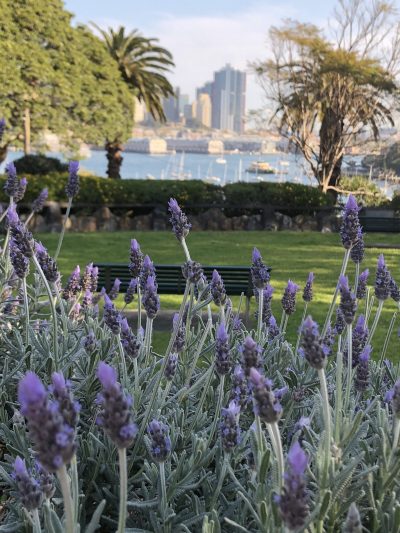 Clark Park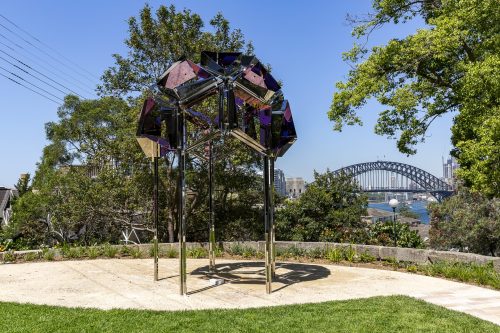 St Peter's Park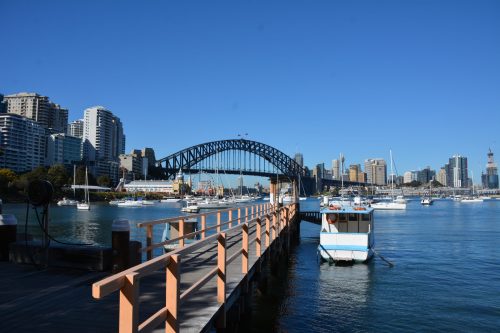 Quibaree Park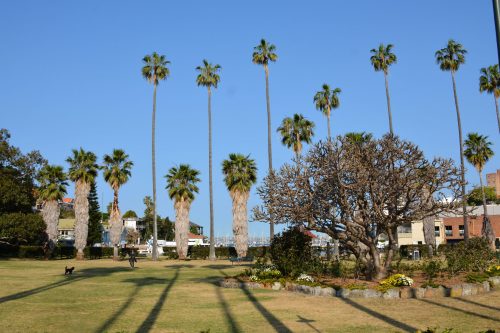 Milsons Park
Parks within a 30-minute walk of the CBD
Brennan Park:
With plenty of open space, this quiet park in Wollstonecraft is the perfect spot for a peaceful run, some yoga or tai chi. A 17-minute walk from North Sydney Post Office, Brennan Park is also a lovely park for a picnic or lie on the grass and read a book.
Milson Park:
Every November, McDougall St in Kirribilli becomes the number one destination in North Sydney thanks to the abundance of jacaranda trees which line the road alongside Milson Park. Just a 20-minute walk from North Sydney Post Office or six minutes from Milsons Point Station, this quiet and picturesque park – located just around the corner from the Ensemble Theatre – is a lovely spot for a water-side picnic or catch-up with friends.
Waverton Park:
Jump on the train at North Sydney and travel one stop to Waverton Station where you can then walk to Waverton Park in just five minutes. Alternatively, it's a 20-minute walk from North Sydney Post Office to the park, which has a fantastic playing field available for hire for cricket, soccer or touch rugby. The park also connects to a picturesque walkway along the cliffs to Carradah Park. Keep going and you'll discover Balls Head Reserve and the Coal Loader on the Waverton peninsula.
Balls Head Reserve:
Discover native bushland on your doorstep at Balls Head Reserve, just a 10-minute walk from Waverton Station or a 30-minute walk from North Sydney CBD. You'll need walking shoes to traverse the bush trails which loop around the Waverton Peninsula to the Coal Loader.
The Coal Loader:
A 25-minute walk from the CBD or ten-minute walk from Waverton Station, the Coal Loader Centre for Sustainability features parklands, community gardens, historical tunnels, a café, and a wide array of events and activities. There's so much to explore, a trip to the Coal Loader can last an hour, or an afternoon or an entire day.