With lockdown over and Summer on its way, we're celebrating the joys of being out and about again in our beautiful city with a delightful series of artworks.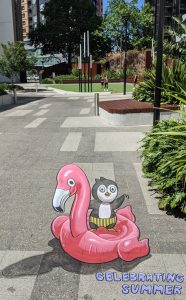 The eight artworks are spread through the villages of North Sydney and feature some well-loved summer activities, including sailing, surf trips in a camper van, lounging in a swimming pool and enjoying a cool icy pole. These colourful and vibrant artworks can be found in the following locations:
Brett Whiteley Place, NTH SYD CBD
Mitchell Street Plaza, St Leonards
Ernest Place, Crows Nest
Cammeraygal Place, Cammeray
Broughton St (outside the Burton St tunnel), Kirribilli
Bay Rd (outside Waverton station), Waverton
Corner of Military Rd & Rangers Rd, Neutral Bay
Corner of Blues Point Rd & King George St, McMahons Point
Some of the artworks are 3D and make great photo opportunities – jump onboard the roof of the Kombi at Brett Whiteley Place or bring a hula hoop to Ernest Place for a fun pic with the hooping hippos.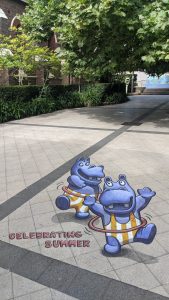 This art trail is a perfect excuse to go for a walk and explore the wonderful North Sydney area. All the artworks are walking distance from North Sydney CBD. Kirribilli is just a 20-minute stroll from Brett Whiteley Place and has beautiful harbour views to enjoy while you're there. Head back to the CBD via Blues Pt Road to check out the McMahons Point artwork and this cute little village. Crows Nest is just a 25 minute walk from the CBD and with an array of incredible cafes and restaurants it's a perfect destination for a lunch break as is Cammeray (30 minutes) and Neutral Bay (35 minutes).
In 20 minutes you can pop to Waverton where you could also check out the amazing Coal Loader Centre for Sustainability. St Leonards is a 35 minute walk or a few minutes on the train from North Sydney Station and features the green oasis that is Mitchell Street Plaza with its  green Junglefy Breathing Wall containing  nearly 6000 plants that filter vehicle exhaust fumes.
These artworks are brought to you by North Sydney Council's NTH SYD program and have been created by artists Rudy Kistler & Zac Craig from Zest Events.
Don't forget to tag NTH SYD @nthsyd and North Sydney Council @north.sydney us in your Instagram pictures.