North Sydney's newest and largest office tower 1 Denison St is now open.  Standing at 158metres-tall, the building provides panoramic harbour views, premium facilities, a 5 Star Green rating, and a home for major organisations such as Microsoft, SAP and Channel Nine.
The arrival of this new building has also brought a hub of new exciting cafes and restaurants into our CBD including Cali Press, Missing Spoon, Stacked and Wholegreens.  Additionally, the team behind the Grounds of Alexandria are bringing Bar Lume to 1 Denison St which will provide dining by day and a lively bar at night.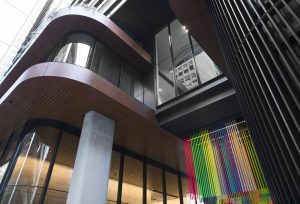 The development has also brought new public art to North Sydney with Chroma Haze by leading Australian artist Nike Savvas located in the through-site link of 1 Denison. The artwork screens of brightly coloured totems align with a mathematical equation to invoke optical phenomena – activating the surrounding urban landscape as a live experience.