Groove your lunchtime away with live music from The Glorious Sousaphonics!
This pint-sized brass band has a big sound, showcasing everything that is possible with brass, woodwind, percussion, and the human voice.
This event was postponed from Thursday 14 July due to high rainfall. New date is listed below.
Date: Friday 5 August
Time: 12pm – 2pm
Location: Brett Whiteley Place, Mount St, North Sydney, 2060
Cost: Free!
They will be performing two sets of roving performances, travelling between Brett Whiteley Place, Elizabeth Plaza and Greenwood Plaza rooftop, and we guarantee they'll help keep your hands and feet warm as you bop along to the band with their uplifting music and joyful sound!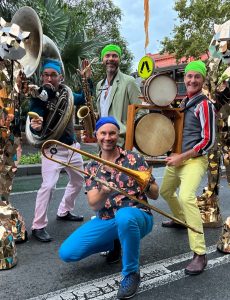 Bio:
The Glorious Sousaphonics were formed in 1997 in Sydney and have since performed on countless streets, festival stages, schoolyards, weddings and parties. Working since 2005 with the Musica Viva In Schools program, they have brought their music to tens of thousands of school students around Australia and overseas.
The brass band is renowned for their unique and heady brew of wind, strings, voice and percussion, drawing on all modern Pop music, Balkan Brass, Brazilian Samba, New Orleans second line, Jazz, and anything else that takes their fancy. Their music is uplifting and engaging, and the hive of activity that characterises each performance is unparalleled.
Check out this sneak peak video of The Glorious Sousaphonics' performance.