May the Fourth Be With You
Wednesday 4 May 2022
Mark Your Calendars! We are hosting another special "May the Fourth Be With You" event at Brett Whiteley Place to celebrate Star Wars Day! Join us on 4 May to meet and greet the likes of Darth Vader, a Storm Trooper, Twi'lek, a Jedi and an X-Wing pilot, all while enjoying Star Wars-themed tunes and remixes from a Mandalorian DJ.
Brett Whiteley Place will be going black and yellow for the day and there will be a Star Wars cupcake giveaway* – also make sure you dust up on your Star Wars knowledge for some fun trivia questions while taking a breather from work.
And that's not all! Blake Wells will be giving light sabre demos and lessons. With years of experience and training with legend Kyle Rowling (who featured in several Star Wars movies), Blake Wells has proven himself to be a worthy Jedi Master! Join him for a 15-minute lesson on basic light sabre techniques at the following times:
12.15 pm
12.45 pm
1.15 pm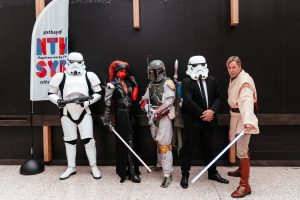 Spaces for these light sabre lessons are very limited so please arrive early to avoid disappointment!
Event Details
Date: Wednesday 4 May 2022
Time: 12pm-2pm
Venue: Brett Whiteley Place, Mount St, North Sydney, 2060
Cost: FREE!
*400 Star Wars cupcakes giveaway from 12pm