Meet North Sydney's most colourful characters Gary Cauchi and Chris Hulm from Hunter Gatherer. The team on Greenwood's rooftop have introduced a special pop-up lunchtime BBQ fduring the Summer months alongside their impressive craft beer range which were a big hit at our live music event last week.
Restaurant Owner Gary and Head Chef Chris are a lively pair full of entertaining stories, passionate about food and making sure their guests have a good time.
"You know when you're in the office, you want to get out and feel like you're away from everything," said Gary.
"I just love this spot – you've got Greenwood Hotel's amazing building there and this big fig tree. What a backdrop. I just love the beautiful sun and the palm trees and how it makes you feel like you've away somewhere. It's a an oasis up here."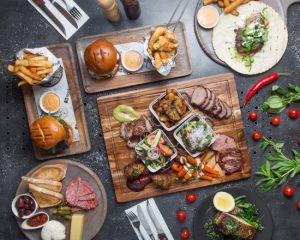 The name Hunter Gatherer explains their menu which is divided into two categories – the hunted and the gathered. The hunted menu features meat & fish options and the gathered selection contains vegetarian and vegan fare.
"We've got a big Brazilian Churrasco – we've got a glazed ham on there for the Christmas menu and chooks on their daily. We've got slow cooked lamb, seafood, and smoker out the front for American style BBQ," explains one of the Head Chefs, Chris.
"Craft beer is also a big part of what we do here. We have an incredible selection and they go perfectly with our family-style meals.
"It's all about good food, fun and bringing people together. The signature Hunter Gatherer Feast is a what it's all about, generous serves of delicious meats and sides served on large boards for all to share and enjoy together. It's about people going home with a full belly."
The jolly duo credit their family backgrounds for their restaurant ethos and part of the reason why they're such a great team.
"My parent's background is Maltese and that's what they do," said Gary. "They're always feeding people."
Chris added, "He's got the Maltese family and I've got the big Aboriginal one. I think that's why we clicked so quickly when we met three years ago."
"We're a match made in heaven. Gary took what I was already doing and put in his input. Gary is a chef by trade as well, and we've just evolved from there. We've got a perfect team in the kitchen and front of house – they are all amazing."
"Essentially, we're a family here as much as we are colleagues. We cook together, we work together, we party together."
Gary responded without hesitation when asked what he was most proud of about Hunter Gatherer.
"It's my people, my crew, they're the best. They put their heart into it. That's the best bit," said Gary.
"COVID-19 has been incredibly tough, but we've stuck together and they're a flexible and dedicated bunch. We're always having a laugh even through hard times," added Chris.
The Hunter Gatherer has a very modern fitout and relaxed feel and features a unique Hunter Gatherer led wall mural that comes to life even more so at night.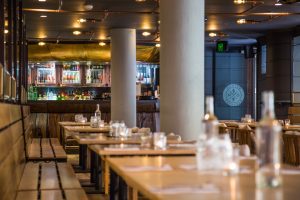 You can find Hunter Gatherer's special pop-up BBQ during Sumemr lunch times lunchtimes, Wednesday to Friday, weather permitting. Stop by for a good feed, laughs and a refreshing break on the rooftop. Their lunchtime BBQ menu includes:
Smoked Brisket Roll – $12
Smoked Pulled Pork Roll – $12
Vegan Burger – $12
Kransky Roll – $12
BBQ Box – $18