When Devon Café's executive chef, Zacharay Tan, made the jump over the bridge to set up his third Devon Café, he found a unique customer base in North Sydney. Unlike Surry Hills, where it's all about momentary food trends, Zacharay found that North Sydney workers and locals gravitated towards healthier choices and like to know where their food comes from.
But don't let this make you think the food at Devon café is boring – Zacharay's love for diversity and pushing boundaries shows up all over his menu – a wonderful place where fried chicken sandos, eel croquettes, hot chip sundaes and a seasonal European black truffle menu coexist.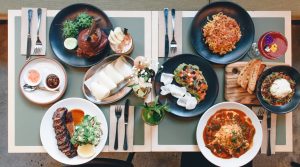 "I don't really like labels. When I first started Devon in Surry Hills it was about cooking with no barriers, whatever we want. Whatever you feel like. No rules.
"A lot of my influences come from my staff. It's very global cooking. We utilise the strengths of all our staff. I like to involve our head chefs and sous chefs in the creation of the menu. We have staff from all around the world including Peruvians, South Americans, Japanese and Koreans.
"I love a diverse team. I love diversity – that's what Australia is about."
Switching things up isn't new to Zacharay who constantly surprises and delights Devon diners with his menu. A pharmacy student turned chef, Zacharay was inspired by Anthony Bourdain and started his career washing dishes and gaining kitchen experience in his home city in Penang, Malaysia.
He then moved to Sydney, enrolled in Le Cordon Bleu, and immersed himself in Australia's dynamic food scene. In 2013, the first Devon Café opened in Surry Hills.
Lately, Zacharay has been forging a new path in food industry sustainability within the Devon eateries.
"More customers are wanting to know where their food comes from. This is important to me too – just because we are a casual dining spot, it doesn't mean we shouldn't care where are produce is from.
"I have recently become aware that agriculture is the second highest pollutant in emissions. We're not going to fix the problem unless we change our attitude. It's about the choices we make every day.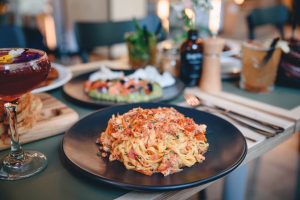 "I am generally on a plant-based diet. I eat seafood once or twice week. I have noticed that the food scene and our diners are heading more and more in this direction too – a lot more plant-based, a lot more awareness.
"I'd love to be able to do something where we provide delicious plant-based wholefood but with the convenience of fast food."
Devon Cafe North Sydney
36 Blue St
North Sydney, NSW
02 8971 0377
Mon – Fri: 07:00 – 16:30
Sat – Sun: 08:00 – 16:00
(Kitchen closes at 15.30)